{ activeIndex = blockIds.indexOf( active ); if (activeIndex > -1 && activeIndex + 1 < blockIds.length) active = blockIds[activeIndex + 1]; else active = blockIds[0]; }, interval)">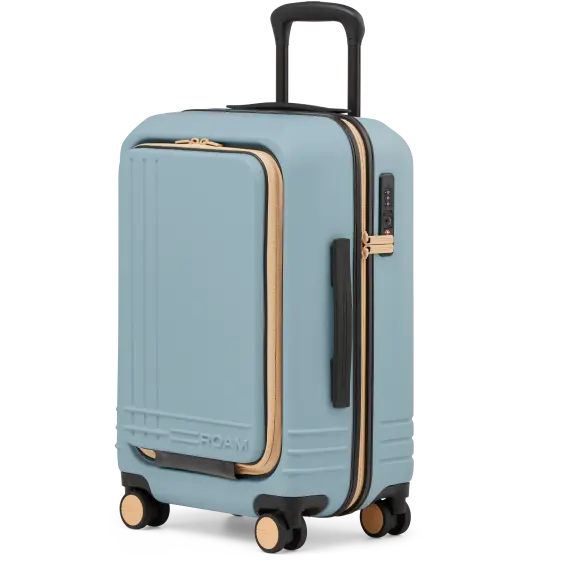 Shell
The polycarbonate shell means it's flexible, lightweight, and durable. Instead of a square edge, we use a chamfered (tapered) edge so our cases fit easily in overhead compartments. We also allow you to customize the front and back shell to the colors of your liking, and add a front pocket for extra utility.
Colors
Zipper
Nothing ruins a vacation like a cheap zipper breaking mid-trip, so we didn't compromise. Roam zippers are tough, as well as water-resistant and theft-resistant. Plus, Roam is the only brand that lets you add an expandable zipper to any design, and customize the zipper from a wide range of colors.
Colors
Binding & Stitch
All luggage is held together by the quality of the stitching and binding. We hand stitch each case using military-grade T210 thread and a lock stitch technique that provides the equivalent strength of a 70 lb. fishing line. Our binding also has a stitch channel that allows the main thread to be recessed to protect it from abrasion.
Colors
Wheels
Having the right wheels is everything. Instead of dragging your luggage, you will watch it glide effortlessly next to you. Our ball-bearing wheels with 360° spin ensures your luggage moves comfortably with you, even on cobblestones.
Colors
Handle
Our retractable handle has 4 height settings instead of 2 like other brands. Aircraft-grade aluminum virtually eliminates wobbling. Plus, when you buy different sizes of Roam cases, all the handles stop at the same height from the ground, to make it easy to pull multiple bags at the same time.
Monogram
Personalize your initials on a leather monogram patch at no extra cost. Includes a pocket to store your name and address in case your bag is lost. Choose from a variety of colors to make it your own!
Colors

Lock
TSA-approved locks are pretty standard these days, but the difference is how well it rotates and snaps shut. You'll find opening up your Roam bag to be quick and easy, because we use high quality cylinders that spin with the tip of your finger.
Interior
Our compression system allows you to pack more, and 100% recycled jacquard lining is made with antimicrobial fabric to keep your clothes smelling fresh. We also offer a range of travel kits and organizers to keep things in place, and a choice of 3 interior colors.
Colors


Shop Best Sellers
"ROAM lets you customize their lightweight hard-shell pieces in bright, eye-catching colors ... plus, you can have your initials monogrammed on the bag for no extra charge."
"All these choices mean there's over a million possible combinations – which also means you'll stand out from the travel herd with your own unique, singular style."
"ROAM is the first color customizable, direct-to-consumer luggage brand that lets you match your suitcase to your personal style. They help you leave the sea of boring black wheelies behind."
"ROAM sets itself part from the pack by offering fully customizable luggage in more than one million color combinations. Shoppers can create a unique color-blocked suitcase that's uniquely theirs."
Only Roam offers you the opportunity to design suitcases and travel bags that express your personal style.
Roam Luggage is committed to world-class materials guaranteed from damage -- for life.
Handcrafted in
USA Workshop